Racist cartoon image
In the SistainTokyo blog, you can see some racist illustrations that are printed in a booklet distributed by the Tokyo Metropolitan Government. I was really shocked to see these cartoons. This is a booklet for "earthquake preparedness." The followings are a couple of examples.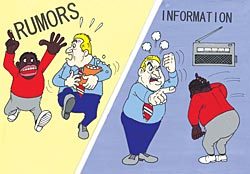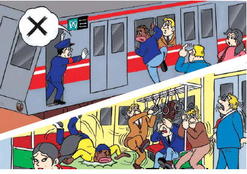 Pay a special attention to the black man's roles in these illustrations. This illustration was made by a Japanese illustrator. I am astonished with the illustrator's lack of imagination about foreigners of African origin living and working in the Tokyo area. However, you should also know that the governer of Tokyo, Mr.Ishihara, is notorious for his racist comments against Asian and other foreigners. See this article "Foreign Worker Groups Protest Gov. Ishihara's Racist Remarks". More problematic is that Mr.Ishihara has enormous popularity among Tokyo residents in spite of his racist and discriminative attitudes. His discriminative remarks on disabled people are also well-known to the general public.
Anyway, what do you think of the above illustrations?
Please read my post Racist cartoons (2) June 25th, 2006, for the subsequent result.
Photo: A bookstore near my apartment
-- M.Morioka www.lifestudies.org