Alice's Adventures in Wonderland, Tassos Missouras
I have received, from Frissiras Museum in Athens, a book of paintings by the Greek painter, Tassos Missouras, who held a retrospective exhibition under the title of "Dream Navigator" in Greece. The title of the exhibition was borrowed from my book, Conscioussness Communication, published in 1993 in Japanese. I wrote about his painting in the post of April 9, 2006.
This is a thick, heavy, and beautifully made book that contains a number of his paintings from his early days to current works. There are some articles on his painting, however sadly, I can't read Greek. His paintings have something that stimulates the subconscious minds. This is probably why he was attracted to my term "dream navigator."
The following are parts of his paintings.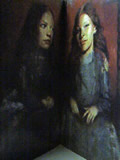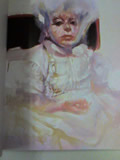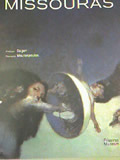 The last picture reminds me of Alice's Adventures in Wonderland by Lewis Carroll. Missouras' works might have some connections with the topics investigated in my book The Insensitive Man, particularly about men's interest in little girls.
There is little information about Tassos Missouras in English on the web. I would like to know more about his works.
Photo: Albany, NY, USA
-- M.Morioka www.lifestudies.org